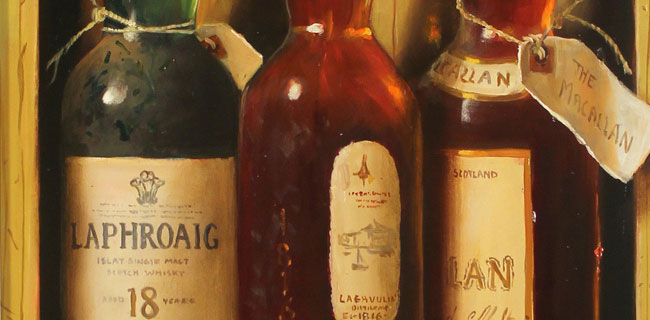 Press Release
Custom Commissions by Raymond Campbell at The Colomb Art Gallery
Posted by The Colomb Art Gallery / Tuesday 9th of October, 2018
The Colomb Art Gallery is delighted to announce that custom commissions from leading British still life artist and four-time Royal Academy exhibitor Raymond Campbell are now available. Perfectly suited for the avid wine or whisky connoisseur, custom commissions allow clients the opportunity to reflect their personal passion for fine wines and whiskies in an exclusive and elegant work of art.
As an artist with an avid passion for vintage wines, Raymond Campbell has included his own personal favourites in his still life paintings for many years. After numerous requests, he is now extending that same level of personalisation to his patrons, offering them the opportunity to select their favourite fine wines or whiskies to be the features of specially commissioned paintings that stand the test of time.
All custom commissions are painted in Campbell's Dutch-inspired signature style, and are accompanied by a personalised certificate of authenticity. Commissions are available in a range of sizes and prices, so please do contact the gallery to discuss individual requirements and to receive a free, no-obligation quote.
Further News and Articles