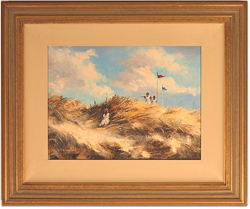 British Artist
Original oil paintings
(b.1947) Sheffield
Maurice's talent for sketching saw him leave Sheffield and head for Norfolk to pursue a career as a photographer and commercial artist. It was in Norfolk where he was introduced to oils and the works of the impressionists, studying them all extensively, he was inspired to produce oil paintings himself favouring the impressionists style and colouration. Maurice is now an elected member of Royal Society of Miniature Painters (RSM) and the Society of Limners (SLm) gaining honourable mentions with both societies.
No artworks by Maurice Crawshaw are currently available, please contact the gallery for future availability
A Selection of Sold Artworks
Please note that all artworks listed in this section have previously been displayed for sale and are not currently available.
If you have purchased a listed artwork and would prefer the listing to be permanently removed, please contact us by email or telephone.