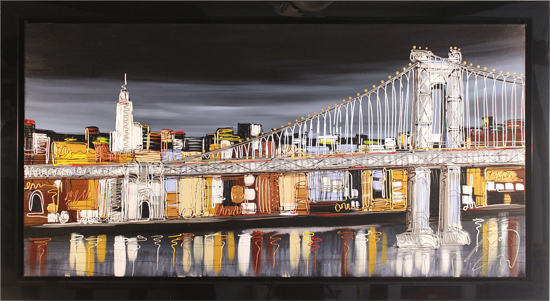 British Contemporary Artist
Original acrylic paintings
(b.1989) Skegness, England
Edward's fast, fluid style in which he works is evident in each and every one of his pieces, echoing the buzz and bustle of city life. It was in a New York diner that the idea of using ketchup bottles occurred to him; a technique that has since come to be the trademark of his paintings.
Edward has already achieved remarkable success, with several sell- out exhibitions under his belt. His bold, dynamic style has captured the attention of collectors worldwide, with many galleries clamouring for his work.
No artworks by Edward Waite are currently available, please contact the gallery for future availability
A Selection of Sold Artworks
Please note that all artworks listed in this section have previously been displayed for sale and are not currently available.
If you have purchased a listed artwork and would prefer the listing to be permanently removed, please contact us by email or telephone.